Alzheimer's Awareness Month Week 2: Preventing Dementia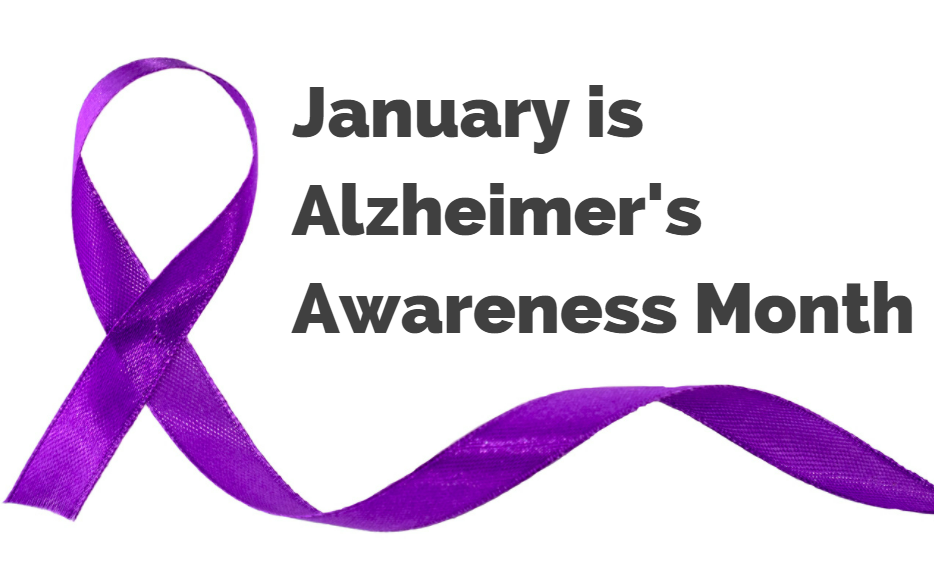 January is Alzheimer's Awareness Month. Throughout the month, The Dementia Society will share information about brain health, dementia, its risk factors and prevention, and encourage conversations about the inclusion of people impacted by dementia in our community.
We will be exploring four major themes this month: What is Dementia, Preventing Dementia, Risk Factors for Dementia, and Dementia Inclusion. 
This week's theme is: Preventing Dementia.
You can reduce your risk of developing dementia by up to 40% if you adopt a brain-healthy lifestyle. Small changes can make a big impact. 
Improving our overall health improves our brain health too. Here are 8 golden habits to adopt in your day-to-day routine to keep your brain healthy and happy!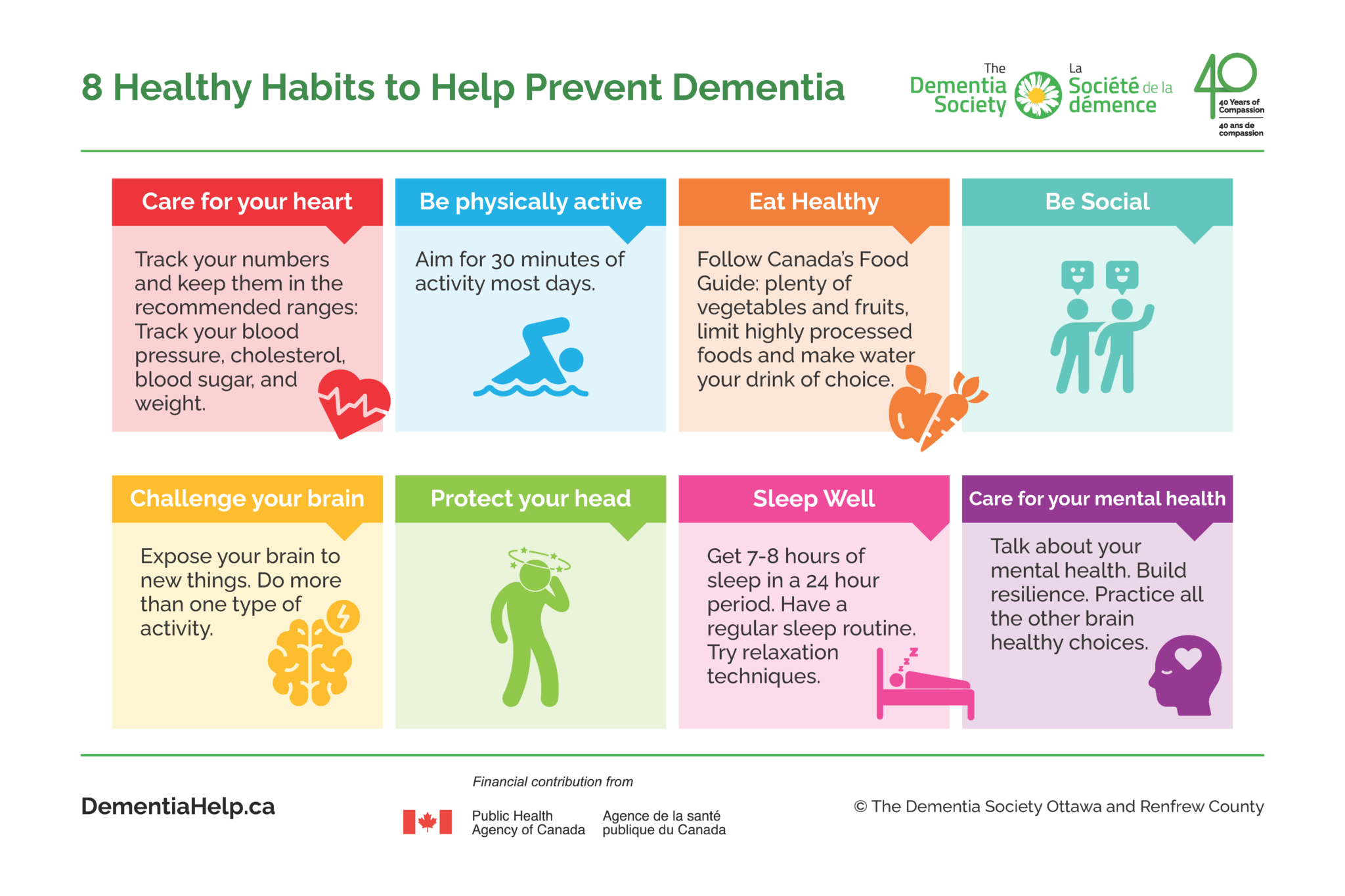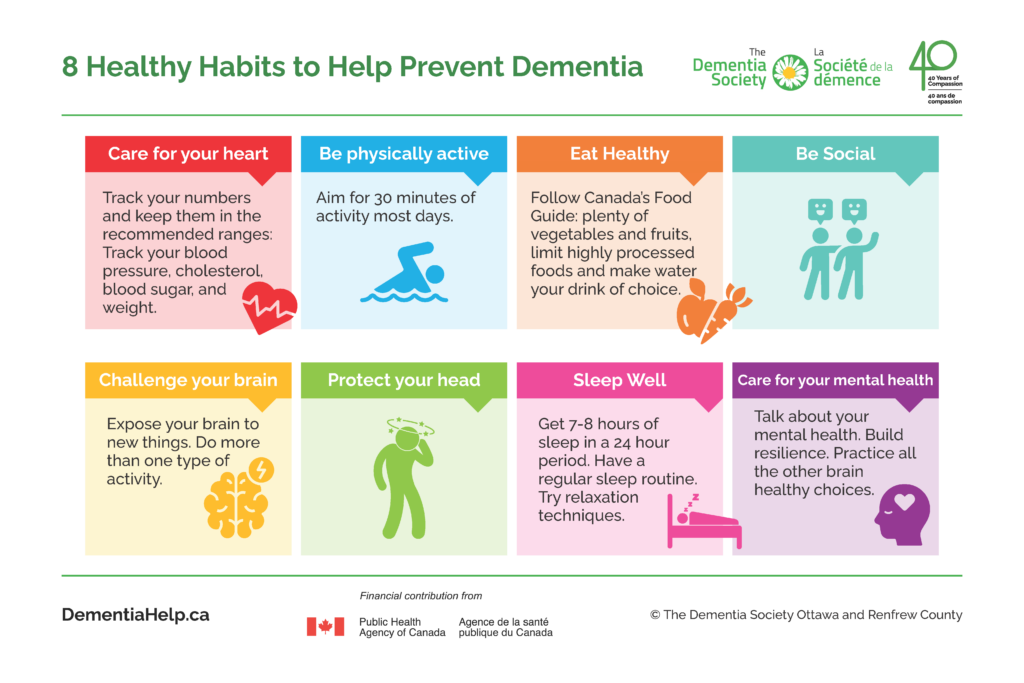 Take action to prevent and delay dementia.

Here are three activities to kickstart your New Year and brain health journey. These activities can help you experience both immediate and long-term results.
Prolonged stress can cause changes in the immune system and may play a role in the development or progression of dementia. 
Here's a playlist of mindfulness videos with Dr. Anne Hennessy, psychiatrist and Dementia Society board member, who will help you reconnect with your mind, body and soul, allowing you to relax and reduce stress.
Certain foods have been shown to slow cognitive decline as we age. 
The downloadable Nutrition booklet below will help you learn simple yet impactful ways to include food and nutrition in your lifestyle that is good for your brain health. Learn easy follow-along steps, food ideas & recipes compiled with the help of Krystal Merrells, Registered Dietitian.  
Regular
light to moderate physical activity is linked to overall health benefits and can help prevent the onset of dementia. 
The downloadable age-friendly Get Moving booklet compiled by Bea Alt, a certified Aging Senior Fitness Instructor, will help you learn movement with safety and confidence! Find tips, tricks and resources to have fun as you build brain-boosting exercise habits.
These resources are a compilation of emails from the BrainyActive Challenge 2022. The Dementia Society's annual fundraiser to ensure people living with dementia in our region and the people who care for them receive the support, education and programming needed to live well with dementia.
Get an overview of the brain, aging and dementia at the Mind Your Brain Health Webinar. The speaker will also share tips on healthy lifestyle choices that can help in preventing and delaying some forms of dementia.
Date: Thursday, January 12, 2023
Time: 5:00 PM – 6:00 PM EST
The Dementia Society advocates for and employs an individualized approach to care and always considers the person living with dementia and their unique needs and circumstances.
Connect with a Dementia Care Coach
A Dementia Care Coach provides expert emotional and practical support, and individualized care planning and coordination that improves the quality of life of caregivers, families and people living with dementia.