The Dementia Society loves seeing you at our free events! After successfully moving many programs online at the beginning of the pandemic, we are now reopening some in-person activities and programs in compliance with Ontario's public health measures.
To help you safely enjoy all in-person events and meetings organized by The Dementia Society, we have updated our Covid Safety Policy. These guidelines are made to keep us all safe; people living with dementia, caregivers, our volunteers and employees. We understand in-person events and gatherings will still look and feel a little different. But together, we can take action to prevent the spread of COVID-19. 
Please refer to our Covid Safety Policy below to safely access all Dementia Society in-person programs.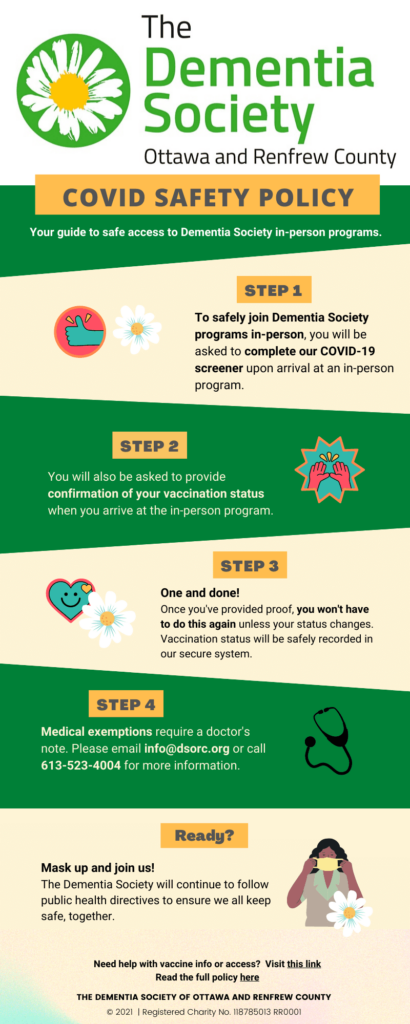 ---

Les employés et les bénévoles de la Société de la démence sont toujours heureux de vous rencontrer dans le cadre des activités que l'organisme propose sans frais à ses clients. Après avoir transféré de nombreux programmes vers notre plateforme en ligne au début de la pandémie, nous reprenons certains programmes et activités en personne tout en respectant les mesures de santé publique de l'Ontario.
Afin de vous permettre de profiter en toute sécurité des activités et des rencontres en personne offertes par la Société de la démence, nous avons mis à jour notre politique sur la sécurité en temps de pandémie. La Politique de la Société de la démence concernant l'immunisation de ses clients contre la COVID 19 vise à assurer la sécurité de tous – les personnes atteintes de démence, leurs proches aidants ainsi que les bénévoles et les employés de la Société de la démence.
Bien évidemment, les activités et les rencontres en personne ne seront plus comme avant. Les choses seront différentes, mais nous pouvons prendre ensemble des mesures pour prévenir la propagation de la COVID-19. Veuillez consulter notre politique (voir le lien ci-dessous) afin de participer en toute sécurité à tous les programmes offerts en personne par la Société de la démence.