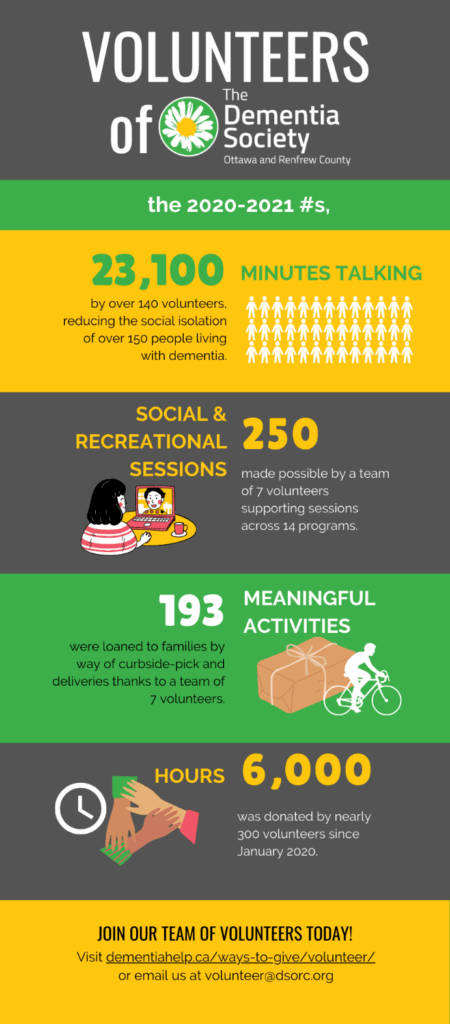 If you look up the definition of 'volunteer', it simply states, "Freely offer to do something." Although true, this doesn't sufficiently capture those who volunteer. I've been a Volunteer Coordinator with the Dementia Society of Ottawa and Renfrew  County (DSORC) for 8 months (notably through a pandemic), and there hasn't been a day where I haven't witnessed a profound depth of compassion and altruism from within our community of volunteers.  Our volunteers do not just freely offer to do something, they are dedicated to helping DSORC reach our vision of ensuring that 'No one should face dementia alone'™ every single day. Whether a factsheet guides a caregiver thanks to the help of a volunteer's translation work, data is entered accurately into our database, or a person living with dementia (PLWD) looks forward to his phone chat with a volunteer every Monday morning, our volunteers are making a difference.
In light of National Volunteer Week I've been thinking about how to best make our volunteers feel recognized and appreciated, especially when so many stepped up and adapted to the challenges of our new virtual world. I've reflected on the approximately 150 volunteer interviews I've conducted in which I always ask, "what makes you feel rewarded for your time and efforts as a volunteer?" I've heard almost the exact same response nearly every time: "I feel rewarded knowing I've contributed to making someone's day." You can see from some of the numbers to the left that volunteers are indeed an integral part of making many someones' days, yet the infographic is only scratching the surface.  
A day is made when a caregiver sees their loved one's anxiety ease when using a fidget blanket, dropped off to their remote location by a volunteer. A day is made when a PLWD makes a friend with a volunteer over the phone, and looks forward to their conversation each week. A day is made when a PLWD and family participates in a virtual choir with a group of volunteers, and when a volunteer teaches them a new craft. A day is made when a caregiver takes their first break in what feels like months, while their loved one is socially engaging with a volunteer.
Thanks to the programs and services that our volunteers support, facilitate, and enable, and for the simple yet profound acts of kindness they provide, an unmeasurable amount of days were made in a year when it was needed more than ever. Volunteers, I feel a tremendous amount of gratitude for each one of you, and I hope you know that you succeeded in making someone's day.
Thank you.
Janice Young, Volunteer Coordinator