Janice's husband, Paul, was diagnosed with mixed dementia resulting in memory loss and changes to his mood and behaviour. It was at this time that he was introduced to The Dementia Society's music program Circle of Song. Paul regularly attended Circle of Song's sing-along sessions through the Dementia Society's YouTube Channel. Paul even asked Janice to join him. They shared a special moment, dancing to Blue Moon.
Read the full story below
When Janice, caregiver to husband Paul, began watching the virtual "Circle of Song" music program, she was not expecting an invitation … to dance.
While everyone is facing challenges in today's uncertain environment, people living with dementia and their caregivers and families often feel very alone. Although key to mitigating the spread of infection, physical distancing has also meant an abrupt loss of respite care and access to meaningful activities that are vital to living well with dementia.
Janice's husband, Paul, regularly attended The Dementia Society of Ottawa and Renfrew County's music program Circle of Song. Paul began attending the program in 2015 when he was diagnosed with mixed dementia—multiple forms of dementia that affect people in ways such as memory loss that affects day-to -day activities and changes to mood and behaviour. Circle of Song gave Janice a much-needed break from constant caregiving. As a result of the COVID-19 pandemic and the cancellation of live events, instructor Jennifer Noxon began recording on the Dementia Society's YouTube channel creating a virtual Circle of Song and on-demand sing-a-long sessions. This meant that clients can access the program based on the times that best suit their needs.
Janice expressed how this virtual programming is helping caregivers – like her – and those living with dementia, by providing much-needed meaningful activities during this period of isolation. Although Janice wasn't expecting Paul to engage with an internet version of Circle of Song – he hadn't been interested in the computer for years, and there had been a progression in his condition since the onset of the pandemic – he surprised Janice recently when he asked to look at their iPad: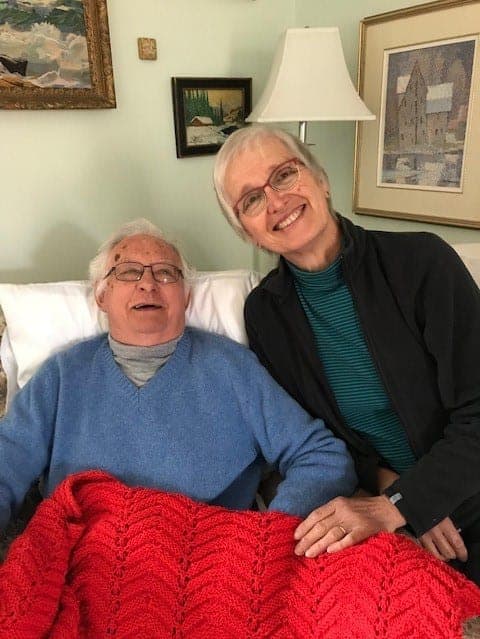 "Just after I had seen session 4 had been posted, Paul asked to look at the iPad – that hasn't happened in years. I put on session 4 and just then, the phone rang. Paul continued to watch while I talked on the phone … for 20 minutes! I could hear him whistling and humming along. During this time the doorbell rang, and after checking who it was he went back to watching. I was astounded, and very happily so. He wanted me to come and join him just before Blue Moon and then – he danced with me." ~ Janice
There have been seven Circle of Song sing-a-long videos created and posted to the Dementia Society's YouTube page, with more than 1200 views to date. Client reaction to these videos has been uplifting and positive.

The Dementia Society continues to answer the needs of people living with dementia, their caregivers and their families. We have shifted educational, recreational and support programs on-line, and continue to develop innovative programs for live and convenient on-demand viewing. For more information on our programs or to subscribe to our Weekly Round Up of meaningful activities, visit us at dementiahelp.ca/