"I saw my beautiful, dynamic wife start to change. I suspected something was wrong—she was slower, her mood changed, and she seemed to be having difficulty concentrating and doing the things she previously did with ease." – Joe
Deborah loved the arts and was an advocate. She was vibrant, creative and relatively young when she suffered mini strokes.  Joe reminisces, "I saw my beautiful, dynamic wife start to change. I suspected something was wrong—she was slower, her mood changed, and she seemed to be having difficulty concentrating and doing the things she previously did with ease. Her doctor repeatedly dismissed my concerns, telling me it was nothing. Finally, specialists at the Bruyère Memory Clinic in Ottawa diagnosed her with vascular dementia. We knew nothing about dementia. Until then."
Joe was at a loss. How could this be? Surely there was a way to fix this? Joe was prepared to spend any sum on treatments, prepared to travel anywhere to get help. Eventually, it became clear that these were not viable options because there currently is no cure for dementia. Instead, Joe and Deborah were advised by their neurologist to invest in good care to live as well as possible with dementia.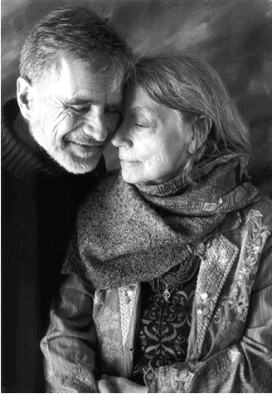 "I was 'introduced' to dementia and Alzheimer's Disease by the Dementia Society of Ottawa and Renfrew County. The information, support and service they provided became increasingly valuable to us over the course of Deborah's illness. At first, I was in shock. I had no idea what to expect" notes Joe. The Dementia Society's education and First Connections programs proved good grounding to understand dementia, what to expect and how to manage: changes in behaviours, maintaining and maximizing abilities, and help to navigate the medical and care options in Ottawa. "I gained a vivid appreciation of the mechanisms, progression and consequences of Alzheimer's disease and most importantly, how to interact with a person living with dementia—how to interact more effectively with my wife. I went from being passionate to compassionate; I am definitely more patient now, slower to lose my temper now, more accommodating. It was a maturing process for me, going through this very difficult period," he adds reflectively.
The Dementia Society also helped Joe to connect with a community of people going through similar changes; he was not alone. "In one of the programs, meetings were held in two separate groups: one for persons living with dementia, and the other for caregivers and family members. We could talk with other caregivers; that was helpful because we were going through the same types of things simultaneously," notes Joe. The experience of dementia can be very lonely for both the person diagnosed, and for spouses, like Joe. There is no one way to live with dementia. Because dementias affect different parts of the brain, each person experiences it uniquely. Participating in caregiver support groups often helps people to strategize and find ways of living better with dementia that work for them.
Deborah was, by nature, creative. The Dementia Society's music program (currently called "Musical Connectons") gave her a creative expression when words started to fail her. "My wife's illness came on relatively early, and I had difficulty finding appropriate services for her. The Dementia Society's Arts and Minds program was very therapeutic for Deborah, a real creative outlet that satisfied her creative needs and abilities."
Focussing on care was important advice for Joe and Deborah. As many do, Joe knit together a patchwork of support as Deborah's care requirements rapidly increased. "I had paid caregivers, agency caregivers, but the conditions deteriorated so rapidly, I couldn't look after her at home. She was running away, getting into confrontations with caregivers. It was devastating to see the dementia take hold and cause behaviours so foreign to her healthy self." The transitions in care were difficult. The first move was to a retirement home, and then as Deborah's care needs increased further, she moved to a long-term care residence. Although Joe feels Deborah benefited from a well-run residence, the constant need for care meant he still needed extra support at all hours, even though he was still present and involved in her care daily.
"During the pandemic, it was much, much worse," adds Joe. "Many of the PSWs couldn't go in. Many PSWs and nurses quit, and residences were severely short staffed. Fortunately, no one contracted COVID, but there was a constant fear of outbreak. That was extremely difficult.
"The Dementia Society was very helpful with support and information, helping me to understand what we might expect. It took a while until it clicked. My wife declined very rapidly. Without that introduction from the Dementia Society, I'm not sure what I might have done? How I would have managed? My wife's neurologist was clear: dementia wasn't going to be easy, that it would be difficult. And no one realizes just how difficult it is, until you are faced with it."