Gail's early stages of dementia became apparent when Irene, her daughter, noticed she paid her Ottawa Hydro bill several times in one month. Irene and her dad decided to reach out to the Dementia Society, where they connected with a Care Coach. Irene and her dad received information, support, and guidance on how to care for Irene as she progressed through the phases of dementia. They enjoyed spending quality time together on their early morning walks.
Read the full story below
Irene's mom, Gail once paid a single hydro bill six different times in a month. This was not just an unusual level of devotion to Hydro Ottawa, it was very unusual for Gail herself. A former executive secretary who managed a group of more than 20 typists, Gail was preternaturally organized. Even at this point it was she who made certain all the household bills were paid. She kept her husband's schedule and reminded every person in the family of their appointments.
Of course, Hydro Ottawa didn't notice something was wrong. Perhaps they just thought Gail was super, super generous! It was Irene, who started receiving angry calls from her mom. "Why aren't you here? I just made supper because you said you were coming over!" It would be two days before, or after, Irene had made those plans.
The inability to pay bills and the inability to maintain a schedule were the first warning signs. After a while, Gail had issues with short-term memory which affected her basic life. Remembering that she had to eat was an issue. When Irene approached her mom, she denied that anything was wrong. When she approached her dad, he too denied that there was a problem.
Irene called The Dementia Society. She received support over the phone and gathered as much information as she could. Slowly, over time, she was able to convince her dad that something needed to be done. She brought her dad into the office of The Dementia Society, where they met with a Dementia Care Coach. This was Ron's first contact at The Dementia Society, and Irene said the Dementia Care Coach was really good at keeping things simple, without information overload, and was very kind. Just what her dad needed.
As months passed, Gail remained at home with her husband. She remained in denial about her condition, but Ron had come around to understanding the situation. He began to take on the role as caregiver, and was very patient with Gail, and transitioned very well considering the difficult circumstances. It helped him to know that while he supports his wife, Irene and Peter are there to support him. And The Dementia Society is there to support them all.
After a few months, Irene began to realize that her dad was struggling too.  With early-stage dementia and bladder cancer, she realized it was too much for him to look after himself and mom too.  He kept refusing help and saying things were okay, but Irene knew they were not.  When Ron let Gail take an unsupervised walk in the winter and paramedics found her several kilometers from home, Irene took it as my sign that it was time to push to take over her mom's care so her dad could focus on his own health.  Irene got her dad's permission to be in charge of arranging her mom's care.  She moved in with her parents to help while she arranged for her mom's move to a retirement residence; however, COVID-19 delayed that move.  What was expected to be a few weeks living apart from her husband turned into 5 months.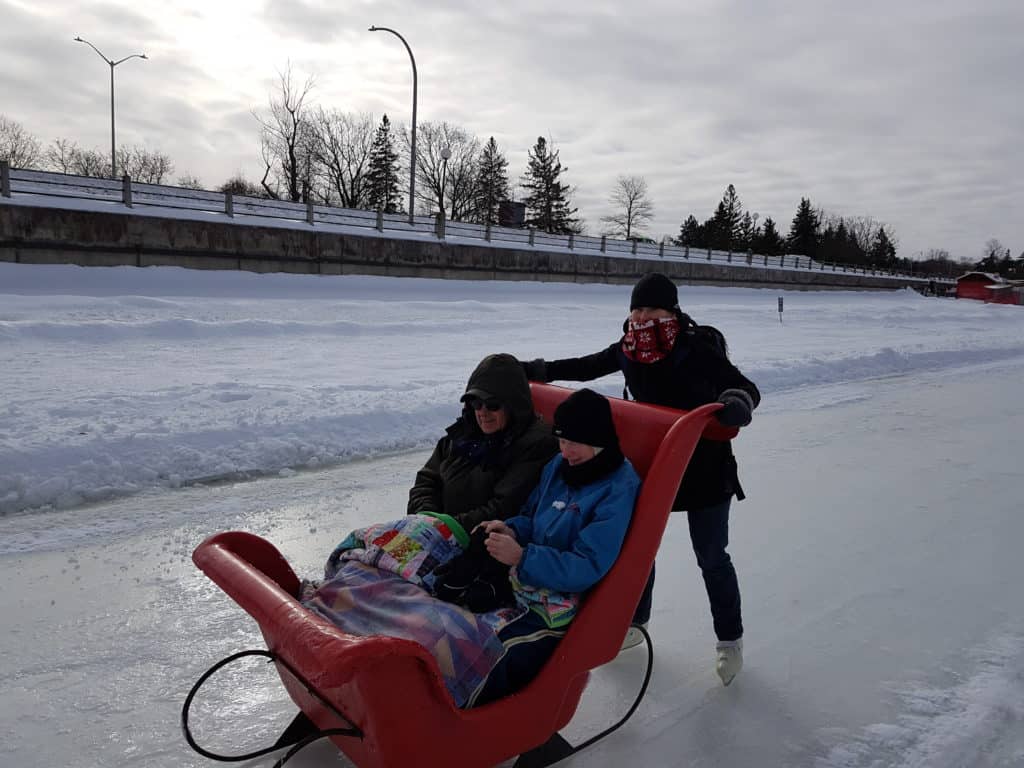 COVID-19 made the heartbreaking decision for Irene to move her mom into a retirement residence even harder.  Not knowing if or when visitation restrictions would change was a huge barrier and made her delay the move.  After seeing her mom daily, it seemed impossible to imagine not seeing her for a few weeks, or even longer.  Who would tuck her in at night?  Who would comfort her when she felt lonely?  Who would get her a sweater when she had a chill?  Yet, Irene and her dad were burning out and knew something had to change.
Gail has now been on a secure floor retirement residence for 4 months and is well cared for, but because the move was not voluntary, she is angry with us when we visit.  Ron sometimes forgets the reason for the move.  He asks Irene if they got divorced, or if Gail doesn't want to live with him anymore, or if she'll eventually come home.  Sometimes he just cannot remember.  They did everything together for 49 years; although mom is still alive, it is hard to see that they have lost the relationship they used to have.
Irene said that without the Team at the Dementia Society, they would not be as far along at understanding Dementia, planning for my mother's current and future care needs, or understanding how to best support my father.
Irene, her husband Peter, and her father Ron have remained in touch with The Dementia Society, attending support groups and calling for information and advice. Peter, having seen the scope of the challenge dementia represents, both for family and for those around them, suggested a donation. He was impressed with the programs, the information, and the knowledgeable people with whom he and Irene interacted regularly. Irene readily agreed.
Although things didn't go as expected with her mom, Irene is so grateful that the Dementia Society helped her accept what was to come, plan for it, learn to ask and accept help from others (so important!!!), and really focus on enjoying time with her mom before her memory got worse.  Knowing things would change, they were able to make the most of things.  They went to the Renfrew fair together, walked on the Renfrew swinging bridge, visited her mom's sisters, listened to oldies music, took day trips for cross border shopping, went on early morning neighbourhood walks to hear the birds, ate lots of ice cream, visited the chip wagon, and took mom for lots of long drives.  Now that her dad's memory is starting to deteriorate, they are making more time to do the things he loves with him.